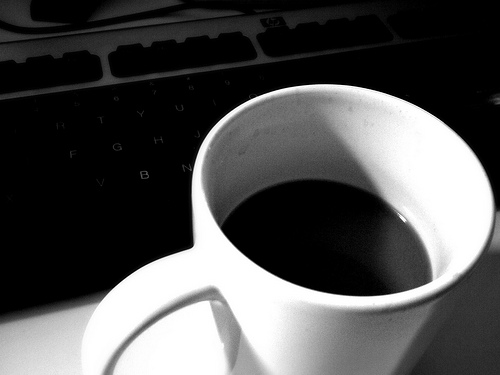 It's time to sit back, relax and enjoy a little joe …
Welcome to another rousing edition of Black Coffee, your off-beat weekly round-up of what's been going on in the world of money and personal finance.
We've got a lot to cover this week, so let's get right to it …
"As a bull market goes on, people who take great risks achieve great rewards, seemingly without punishment. It's like crime without punishment or sex without sin."
— Rob Chernow
"The tendency to whine and complain may be taken as the surest sign of little souls and inferior intellects."
— Francis Jeffrey
"I'm convinced that the way to build a better world is not capitalism. Capitalism leads us straight to hell."
— Hugo Chavez
Credits and Debits
Credit: This week Apple — one of the so-called FAANG corporations comprised of Facebook, Apple, Amazon, Netflix and Google — became the world's first trillion-dollar company. The iPhone maker hit the magic number on Thursday after the stock passed $207.04 a share; for the year, Apple is now up more than 20%. Hooray!
Debit: Then again, as investor portfolios have become increasingly FAANG-dominated, the five FAANG stocks now have a collective market capitalization of $4 trillion — that's nearly 50% of the Nasdaq's entire market cap! The FAANGs are also the five biggest companies in the S&P 500; without them, the S&P would have had a negative return in the first six months of 2018. But I'm sure that's perfectly normal.
Debit: As Adam Taggert notes, "Over the past few years, investor capital has been increasingly concentrating into the FAANGs while the rest of the market has been deteriorating." That's changing. Despite Apple's impressive stock performance this year, Netflix is down 10%, Facebook is down 20%, Amazon is flat — despite a stellar earnings report last quarter — and Google is up only 3%. Uh oh.
Debit: In other news, the US Treasury said it plans to issue an additional $329 billion of debt through September — that increases the expected 2018 deficit to $1.3 trillion. Surprised? You shouldn't be. Anyone who understand's Triffin's Dilemma also knows that, as the holder of the world's reserve currency, US deficits must continue growing over time to keep the dollar Ponzi scheme going.
Credit: I know what you're thinking: But, Len … Can the US really run deficits at an ever-growing rate? Well … no. Our debt-based monetary system is a bad idea that is mathematically guaranteed to not end well. Speaking of bad ideas that didn't end well:
Debit: It's not just the federal government that is buried in debt. In Illinois the average household owes $52,269 to cover the state's unfunded pension costs — and that's on top of 25% (!) of the Illinois' state budget that's also committed to maintain those lavish pensions. Yeah … that's about as sustainable as this:
Debit: In fact, in a recent audit of more than 110 cities within the state's borders, the Illinois Policy Institute found that in the ten biggest, including Chicago, the property taxes are used exclusively to pay pensions. Huh. I thought property taxes were supposed to be used to fund public services — not public-servant retirements. Silly me.
Debit: Meanwhile, according to Bloomberg, "The US housing market — particularly in cutthroat areas like Seattle, Silicon Valley and Austin, Texas — appears to be headed for the broadest slowdown in years." Apparently, buyers are having trouble coping with the dreaded combination of increasing mortgage rates and home prices that are climbing twice as fast as wages. Funny how that works.
Debit: The teetering home market isn't limited to America. After miraculously managing to avoid an implosion after the 2008 financial crisis, home prices are finally dropping in Australia too. Falling prices in Sydney and Melbourne are the drivers behind the first annual drop in the Aussie property market in six years. In case you're wondering, the last time Oz had a housing market crash was way back in 1987. Fair dinkum!
Debit: By the way, as Mish Shedlock points out, the nascent Australian housing downturn is very bad news for the 13-year-old who bought a 4-room 1-bath house there at the top of the market last year for $552,000. I know. But the kid has a long investment horizon. So there's that.
Debit: In Venezuela, the economy continues to be a mixed bag. Sort of. The good news is the people are now allowed to withdraw up to 100,000 bolivars per day from their ATMs. The bad news: a single egg costs 200,000 bolivars. That's twice as much as last month — which means Venezuelans earning the minimum wage of 5 million bolivars per month have to work four full weeks to buy two dozen eggs. Forward, amigos!
Debit: After nationalizing major industries, expropriating hundreds of businesses — including supermarket chains — and imposing price controls, Venezuela's president, Nicolas Maduro, finally admitted his party's economic policies have been a failure. Then he commanded his rubber-stamp congress: "No more whining. I want solutions, comrades!" Okay … how about free-market capitalism? Comrade.
Credit: Perhaps President Maduro's admission helped sway the politicians who are running Ontario, Canada. They announced this week that they're scrapping the province's universal basic income experiment. The pols there are now saying that, upon further review, that kind of giveaway is not sustainable. Heh. Imagine that.
The Question of the Week
Note: There is a poll embedded within this post, please visit the site to participate in this post's poll.
Last Week's Poll Results
How high would saving-account interest rates have to be to entice you to save more money?
5% (37%)
3% (28%)
6% or more (23%)
4% (12%)
More than 1500 Len Penzo dot Com readers responded to last week's question and it turns out that nearly 1 in 4 of them won't even begin thinking about increasing their savings until the banks hike their compensatory interest rate to 6%. As for me, well … rates have been so low for so long that even 4% would be very tempting.
This week's question was submitted by Frankie. If you have a question you'd like to see featured here, please send it to to me at: [email protected] — and please put "Question of the Week" in the subject line.
By the Numbers
Here are a few of the latest predictions from investment manager John Hussman, who's claim to fame includes correctly forecasting the market collapses of 2000 and 2008:
-83% Amount Hussman predicted in March 2000 that the Nasdaq would ultimately fall.
-77% Amount the Nasdaq actually plunged from its March 2000 high to its September 2002 low.
-57% Hussman's expected market loss at the completion of the current cycle for the Nasdaq 100 as measured from its 2018 high.
-64% Hussman's expected market loss at the completion of the current cycle for the S&P 500 as measured from its 2018 high.
-68% Hussman's expected market loss at the completion of the current cycle for the Russell 2000 as measured from its 2018 high.
-69% Hussman's expected market loss at the completion of the current cycle for the Dow Jones Industrial Average as measured from its 2018 high.
5% The 2018 earnings year-to-date of the S&P 500.
-0.2% The 2018 earnings year-to-date of Hussman's Strategic Total Return Fund.
-2.8% The 2018 earnings year-to-date of Hussman's Strategic Growth Fund.
Source: MarketWatch
Useless News: The Golf Game
A Catholic priest and a nun took a rare afternoon off, and enjoyed a round of golf.
The priest stepped up to the first tee and took a mighty swing.
He missed the ball entirely and said "Shit, I missed."
The good sister told him to watch his language.
On his next swing, he missed again. "Shit, I missed."
"Father, I'm not going to play with you if you keep swearing," the nun said tartly.
The priest promised to do better and the round continued.
On the 4th tee, he missed again.
The usual comment followed.
The sister was really mad now and said, "Father John, God is going to strike you dead if you keep swearing like that."
On the next tee, Father John swung and missed again.
"Shit, I missed," said the priest.
A terrible rumble was heard, and a gigantic bolt of lightning came out of the sky and struck Sister Marie dead in her tracks.
And, from the sky comes a booming voice saying, "Shit, I missed!!!!"
(h/t: RD Blakeslee)
More Useless News
In case you missed it, yours truly was featured briefly in this article by my buddy Chris over at Life Hack regarding money-making opportunities in blogging. If you've got a minute or two, be sure to check it out.
Other Useless News
Programming note: Unlike most blogs, I'm always open for the weekend here at Len Penzo dot Com. There's a fresh new article waiting for you every Saturday afternoon. At least there should be. If not, somebody call 9-1-1.
Hey! If you happen to enjoy what you're reading — or not — please don't forget to:
1. Click on that Like button in the sidebar to your right and become a fan of Len Penzo dot Com on Facebook!
2. Make sure you follow me on Twitter!
3. Don't forget to subscribe via email too! Thank you.
And last, but not least …
4. Consider becoming a Len Penzo dot Com Insider!
Letters, I Get Letters
Every week I feature the most interesting question or comment — assuming I get one, that is. And folks who are lucky enough to have the only question in the mailbag get their letter highlighted here whether it's interesting or not! You can reach out to me at: [email protected]
After reading my article about GAP insurance, our very own Tennessee Andy had this to say regarding my claim that wearing a belt and suspenders is a serious sartorial faux pas:
"I often wear that combo — suspenders to hold up my pants, and a belt to hold the holster for my Glock."
For that, I'll make an exception, Andy … because no self-respecting man carries his Glock in a fanny pack.
I'm Len Penzo and I approved this message.
Photo Credit: brendan-c