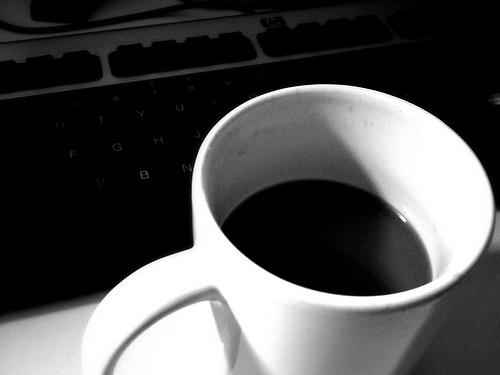 It's time to sit back, relax and enjoy a little joe …
Welcome to another rousing edition of Black Coffee, your off-beat weekly round-up of what's been going on in the world of money and personal finance.
Let's get right to it this week …
"Debt is one person's liability, but another person's asset."
— Paul Krugman
"The United States can pay any debt it has because we can always print money to do that. So there is zero probability of default."
— Alan Greenspan
"The best way to destroy the capitalist system is to debauch the currency."
— Vladimir Lenin
Credits and Debits
Debit: The US collected a record $1.3 trillion in individual income taxes through the first nine months of fiscal 2018. Even so, the federal government still ran a deficit of $607 billion during those same nine months. Uh huh. Talk about snatching defeat from the jaws of victory. By the way, for those who prefer a graphic illustration, let's go to the tape:
Credit: The growing US income tax revenue filling government coffers suggests an improving economy. In fact, Americans quit their jobs in May at the fastest pace since 2001, suggesting an economy with ample job opportunities for those who want them. Now all we need are wages rising to a point that is high enough to ensure all of those open positions are filled quickly. (Psst. Don't hold your breath.)
Debit: I sure hope wages are climbing in the Bay Area because San Francisco home prices have soared $200,000 — in just the last six months. As a result, there are now entire neighborhoods in the City where every single transaction is above $1 million. Hey … I wonder if the million-dollar-plus price tag comes with sidewalks that are free from feces and used syringes. I know; I don't think so either. Forward!
Debit: Home prices in Frisco aren't the only thing that's going up. The ongoing truck driver shortage is a big reason why truck freight-transportation costs have climbed climbed 7.7% since the same time last year. And now, thanks to scrambling companies looking for transportation of any kind, rail transportation rates have also risen 6% year-over-year. Imagine that.
Debit: Did you see this? Gold is insurance against counterparty risk; so why reintroduce counterparty risk by storing it in a bank? Last week, a multi-millionaire sought to remove 500 kilos of his physical gold from a commercial European bank; however, the bank refused his request. That's the fourth time in less than a year that a Euro bank has pulled this stunt. Yes, it's disturbing — but not surprising. Just ask this guy:
Debit: Maybe those European banks know that worldwide debt grew by $8 trillion during the first quarter of 2018, to an all-time high of $247 trillion. It's also the fastest rate of debt accumulation in two years. Compounding the problem, the IIF is warning that, "The quality of creditworthiness has declined sharply." Ya think? The truly creditworthy folks are either tapped out — or not interested in going into debt.
Credit: Meanwhile, the skyrocketing debt — coupled with higher interest rates and climbing inflation — is causing US government interest payments to rise noticeably. In the first quarter of 2018, they hit an all-time high. And if rates double from the current mid-1% range to 3% in the next year or two, as the Fed is predicting, then the interest payment on the debt alone will approach $1 trillion annually. Uh oh.
Debit: Speaking of looming financial problems, in 1987, pension promises to government workers in Illinois' five now-teetering state-run plans totaled $18 billion; by 2016, they were $208 billion. That's a cumulative 1067% increase. Over the same period, Illinois' revenues were up just 236%, household incomes were up just 127%, and inflation was up just 111%. But I'm sure this can all be fixed by raising taxes. Again.
Credit: So why are there so many fiscal issues a decade into this so-called "economic recovery"? Well … as John Hussman notes, the economy has become a Ponzi scheme because it requires the constant creation of increasingly-lower-grade debt to finance consumption. And since those securities are assets to the holder and liabilities to the issuer, the skyrocketing debt doesn't reflect real wealth — it's nothing but a tally of claims and obligations between parties.
Credit: In other words, when the debt blows up — and it most certainly will — the "asset" holders will finally learn the difference between real and paper wealth. You can bet the bankers know this. Well … at least the European bankers do, if their affinity for their depositors' gold is any indication.
By the Numbers
Here's a quick look at the simmering trade war between the US and China, which is now threatening to boil over:
$34,000,000,000 Current amount of tariffs on Chinese imports to the US.
$216,000,000,000 Amount of additional tariffs the US is threatening to impose on Chinese imports.
8.6% The expected reduction in Chinese exports to the US.
0.3% The expected reduction in China's GDP if the threatened additional tariffs are actually implemented.
0.35% The expected reduction in US GDP.
Source: Bloomberg
The Question of the Week
Note: There is a poll embedded within this post, please visit the site to participate in this post's poll.
Last Week's Poll Result
How would you describe the housing market where you live?
Prices are increasing. (72%)
Prices are steady. (22%)
Prices are falling. (6%)
More than 1300 people responded to last week's question and, based upon the responses, the housing market is booming. No surprise there. All of the dollars being created by the world's central banks have to go somewhere, folks.
Useless News: Expectant Fathers
Four men were in the hospital waiting room because their wives were having babies. After awhile, the nurse came out and said to the first guy, "Congratulations! You're the father of twins."
"That's odd," answered the man. "I work for the Minnesota Twins!"
A little while later, the nurse came back and said to the second guy, "Congratulations! You're the father of triplets!"
"That's weird," said the second man. "I work for the 3M company!"
Not long after, the same nurse came out and told the next man, "Congratulations! You're the father of quadruplets!"
"That's strange," he said. "I work for the Four Seasons hotel!"
Upon hearing this, the last man began groaning and banging his head against the wall.
"What's wrong?" said the nurse.
"I work for 7-Up!
(h/t: RD Blakeslee)
Other Useless News
Here are the top — and bottom — five states in terms of the average number of pages viewed per visit here at Len Penzo dot Com over the past 30 days:
1. South Dakota (2.38 pages/visit)
2. Minnesota (2.29)
3. Arkansas (1.84)
4. Alaska (1.63)
5. Idaho (1.60)
46. Hawaii (1.23)
47. Massachusetts (1.20)
48. Montana (1.18)
49. Oregon (1.06)
50. Wyoming (1.04)
Whether you happen to enjoy what you're reading (like my friends in South Dakota) — or not (ahem, Wyoming … for the second month in a row!) — please don't forget to:
1. Click on that Like button in the sidebar to your right and become a fan of Len Penzo dot Com on Facebook!
2. Make sure you follow me on Twitter!
3. Subscribe via email too!
And last, but not least …
4. Consider becoming a Len Penzo dot Com Insider! Thank you.
Letters, I Get Letters
Every week I feature the most interesting question or comment — assuming I get one, that is. And folks who are lucky enough to have the only question in the mailbag get their letter highlighted here whether it's interesting or not! You can reach out to me at: [email protected]
Randy dropped me a line to ask if I'd like to feature one of his guest posts on my website. There's just one problem:
"I came across your blog (Wise Bread) today and I wanted to thank you. The content is very informative!"
I'm glad to see you have high standards, Randy — unlike the crap that "Len Penzo" guy writes at his sorry blog.

I'm Len Penzo and I approved this message.
Photo Credit: brendan-c