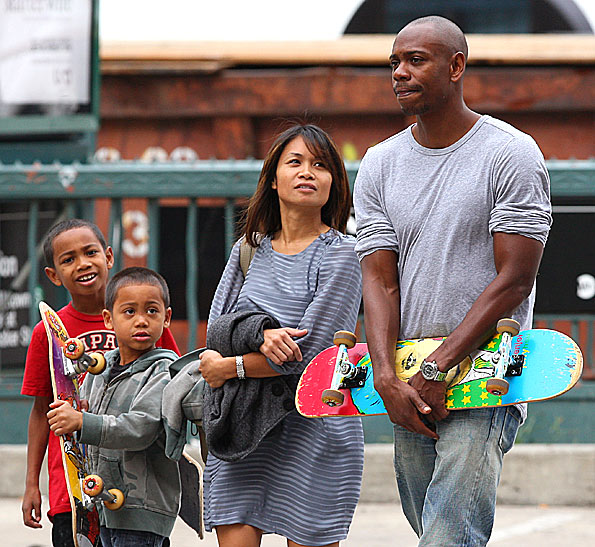 Dave Chappelle reemerged in the comedy scene in 2017. Many people were happy to see the comedian back on stage and doing what he does best: telling jokes. Now that he's back in the spotlight, people have been wondering about Chappelle's life during his time off. More importantly, people are wondering about Dave Chappelle's wife and their finances.
Who is Dave Chappelle's Wife?
Chappelle and his wife, Elaine, took a step back from the spotlight after the comedian had a few rough shows. Elaine and Chappelle have been married since 2001. She was born in New York in 1974 and is of Phillippine descent.
The couple shares three children, two boys, and one girl. Although they have been married for 17 years and were in a long-term relationship prior to tying the knot, there isn't much publicly-shared information about Dave Chappelle's wife outside of stories Chappelle shares on stage.
Chappelle is known for being a family man, although his comedy doesn't always reflect that. After becoming famous for his work on The Chappelle Show, many people enjoyed looking forward to the comedian's raunchy-style of comedy. However, he made a conscious decision to walk away from the fame and popularity the show brought him.
The Chappelle Show began controlling every aspect of the comedian's life. Right before officially leaving the show behind, he had a minor melt-down on stage in front of a live audience. The show was scheduled to launch its third season when Chappelle decided to take a hiatus in South Africa.
He was out of the spotlight for years and years. Many people wondered about what the star was doing during this time and how he was recovering from his melt-down. During this difficult time, Elaine was Chappelle's rock. She supported him every step of the way until he decided to take to the stage again. In 2017, he appeared for the first time in his very own Netflix comedy special.
How Much is Dave Chappelle's Wife Worth?
Netflix offered up $60 million to Chappelle for three comedy specials on the streaming service. While he hits the stage, his wife enjoys staying at home with their three children. The family can oftentimes be seen together during red carpet events. Together, Chappelle and his wife have a net worth of around $75 million.
Most of their wealth has stemmed from the booming popularity of The Chappelle Show and Chappelle's loyal fans. During his hiatus, he still maintained a social media presence and continued to share moments of his life with followers. Not much of Chappelle's cash has come from endorsements or lucrative deals though, as he has been out of the spotlight for so long.
A portion of the couple's wealth can also be attributed to assets. Dave, Elaine, and their children live on a 65-acre farm which is valued in the millions.
The couple seems to be embracing the return to the spotlight and there is no doubt that if Chappelle continues to produce additional standup material that he'll bring home even more cash.
Photo: bobbystrobeck
Read More
The post How Much Is Dave Chapelle's Wife Worth? appeared first on Plunged in Debt.